Skinny vs. Super Skinny Jeans: Which will fit on you Perfectly?
Jeans are a favorite choice among teenagers and adults. You can get a variety of jeans out there. But this can be confusing at times! You may have already come across skinny and super skinny jeans but don't know the differences. What to do now!
Don't you worry, we've come here to help!
Relative:
What is the difference between Tapered vs Slim Jeans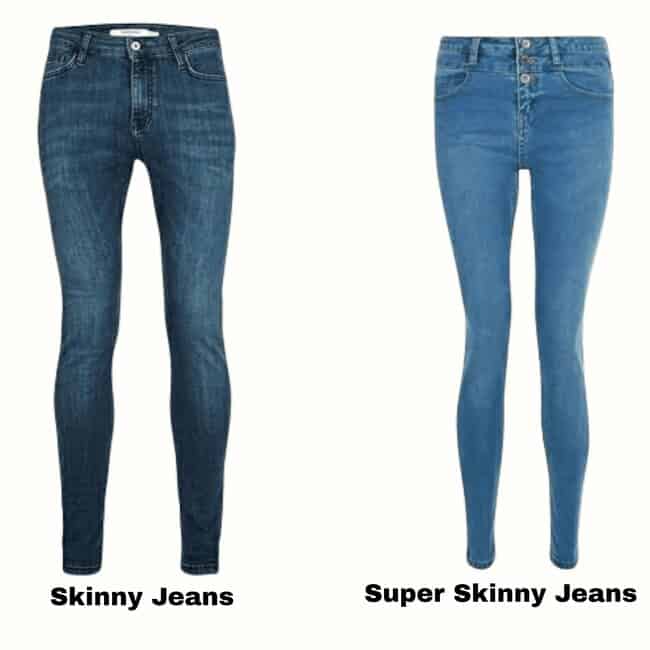 Skinny vs Super Skinny Jeans
The main difference between Super Skinny Vs Skinny Jeans is their fitting. Super skinny jeans and a kind of skinny jeans but super skinny jeans hug the body closer than normal skinny jeans. There is some space between the skinny ankle and the jeans, but the super skinny jeans hug the ankle tightly.
Now, this might not be enough for you to understand the differences between the two types. We have provided all the details regarding these two jeans in our article.
Keep on reading!
What are Skinny Jeans and what does Skinny Fit mean?
If you are a jeans fan, you are most likely to wonder what are skinny jeans.
Skinny-fit jeans are the brand's most narrowly cut pants. Although the term "slim fit" means different things to different companies, the concept is the same. Do you still have any confusion? What's going on is as follows.
Customers are not the same for every brand. Brands are quite concerned about this. That is why brands create pants that are tailored to the needs of their customers. Each customer has a unique body type.
So marketers must create pants that are extremely well-fitting for the majority of their clients' body types. But how does this relate to slim jeans? It means that thin jeans from different brands fit differently.
Because they're designed to appeal to a variety of people. Sure, skinny jeans are narrower on average than other jeans.
Now, you may ask Who can wear skinny jeans? Well, there is actually no limit to this costume. Anyone can wear skinny jeans literally.
But if you wonder about the looks, these jeans are actually preferred by teenagers. Along with that, adults also like this costume!
Relative:
What is the difference between Levi's 505 vs 514 Jeans
Where did skinny jeans come from?
The jeans have a long and rich history. The first pair of denim jeans were worn by soldiers in the 1800s. They were used for military uniforms. Afterward, they became popular among the young men of America who wore them as part of their everyday life. Over time, trends in style and fashion have played a major role in the evolution of denim jeans throughout history including, The evolution of denim jeans from the days when worn clothing was made from wool, leather and linen to today's high fashion denim jeans.
How to wear skinny jeans?
If you think about how to wear skinny pants, don't. This is quite a common concern, we know! Take a top or shirt and you are fine! A pair of shades would make you look even better!
How not to wear skinny jeans?
But if you're wondering how not to wear skinny jeans, it might be a long list. Don't be fooled by a sloppy fit or attempting to cram them into too-tight boots. When wearing heels, cropped versions are a must-have.
Remember to not wear tight clothes or dull outerwear. Finally, they should not be worn with a T-shirt.
Are Skinny Jeans Outdated In 2022?
Skinny jeans are not seen quite often these days. So, you may actually wonder, are skinny jeans outdated in 2022? Well, the straightforward answer is no. Want to know more? Then read along!
Slim-cuts continue to rule the throne, despite the fact that skinnies have nearly vanished from menswear. Slim-fit jeans go with any ensemble, no matter what the season.
The look is straightforward, understated, and, most importantly, ageless. Slim jeans aren't going anywhere for the next few years.
What Are Super Skinny Jeans?
A quite common wonder is what are super skinny jeans. These jeans are basically like regular jeans but in a tight fit. But no, that's not the only feature.
The legs of super-slim jeans taper even more dramatically. They'll also be a good fit for your legs. You may have well-developed calves or runners' legs. In such a scenario, extreme skinnies are a great way to flaunt them.
They aren't simply for the very anorexic. On super skinnies, the leg openings are normally 6.5′′ in diameter. This means that the legs will fit snugly up to your ankle and the top of your foot.
There isn't much of a difference between the two styles in terms of the waist, thigh, and hips. The super skinnies could be a smidgeon tighter in the fit. But there's nothing out of the ordinary when it comes to skinny jeans.
How tight should super skinny jeans be?
So, how tight should super skinny jeans be? Skinny jeans should fit snugly around the waist, but not too tightly.
Determine if you are able to sit comfortably in them or not. Or if zipping them up is a problem for you. If this occurs, you must adjust the size. Also, if you develop red marks around your waist, you should size larger.
You should not feel suffocating anyway. If you do, then it is an alarm for an unhealthy situation.
Are Super Skinny Jeans Tighter Than Skinny Jeans?
People can not differentiate between skinny jeans and super skinny jeans. So, it is quite common to mix their fit. Are super skinny jeans tighter than skinny jeans?
Yes, definitely. Super skinny jeans are tighter than skinny jeans. And you can feel the pressure when you wear these jeans for a long time. But it is recommended not to wear super skinny jeans for a long time though!
Because this might put a negative impact on your health due to compact skin.
Differences Between Skinny and Super Skinny Jeans?
Skinny and super jeans basically do not have many differences. However, their little differences are quite significant. We do not generally think of the differences as we don't notice them. So, let's see the differences between them.
Fit Of The Jeans
Skinny jeans have a much smaller range of motion than skinny jeans. This could feel rather restrictive in certain spots!
The angle of super skinny jeans is typically wider than that of skinny jeans. Because of this, it's simple to mix and match thin and very skinny jeans.
There is, however, an easy way to know which one is which! Just make sure the seat and thighs are in the right places. Tapered jeans normally have a looser fit around the waist. Skinny jeans, in contrast, have a fashionable silhouette.
Super slender jeans might make you appear even slimmer in terms of appearance. Skinny jeans, on the other hand, do not have any noticeable alterations in look. When you wear slim jeans, you'll look exactly the same.
How Can I Make My Jeans Look Better?
A lot of people have a common concern about jeans. That is, how to make jeans look better? So, let us see if we can actually do it!
Well, yes you can surely make your jeans look better! Look for slim jeans that have a bit of stretch. Because it would allow you to move and breathe a little more freely. Wear thin pants with tops that fall just over your hips' widest point.
Knee-high boots tucked into slim jeans During the warmer months and you may even pair them with ballerina flats.
You also need to wash your jeans occasionally and press with a steam iron. Try to keep them dry as damp jeans can gradually get damaged.
When should I wear super skinny jeans?
The answer to this question is not as simple as it may seem. There are a few factors that you should consider before donning a pair of super skinny jeans. First, think about the occasion. If you are going to a more formal event, it is probably best to leave the super skinny jeans at home.

However, if you are going out with friends or to a more casual event, they can be a great option. Another thing to consider is your body type. If you are on the thinner side, you can definitely pull off the super skinny jeans look. However, if you are a bit curvier, you may want to go for a more relaxed fit.
Most Popular Skinny and Super Skinny Jeans
You have come up with detailed information about skinny and super skinny jeans. And right now, you might wonder what clothing is best compatible with these! Well, we have got your back to enhance your looks with our complimentary pickups!
Levi's Women's Totally Shaping Pull-on Skinny Jeans
This amazing pair of skinny jeans by Levi's features a vintage look. This can be styled with almost everything. This piece of art features a mid-rise pull-on waistband and a tummy-slimming panel.
It makes your waist and legs look gorgeous. You can enjoy the Super stretch fabric of these jeans. The full-on closer and skinny through hip and thigh makes it all the more fashionable.
Levi's Women's Modern Skinny Jeans (Standard and Plus)
This classic beauty from the signature series by Levi's skinny jeans may be the one you're looking for. Looks great on every body type and comes with standard and plus size. The fabric used in the jeans is 78% Cotton, 20% Polyester, and 2% Elastane.
This pair is machine washable with a zipper closer which is great. These classic pairs give a vintage vibe to your look. Skinny fit throughout the legs giving your body the perfect shape. The USA-made Stretch fabric doesn't lose shape either.
Levi's Women's 711 Skinny Jeans
The Imported Levi's women's 711 is one of the best-sellers by Levi's. People loved this pair and gave amazing reviews. Worried about the fabric? It's made with super comfortable 60% Cotton,
22% Viscose, 16% Polyester, 2% Elastane fabric. Its best features are button closure and slim hips and thigh fitting. Also, it is mid-rise skinny jeans made with 4-way stretch denim.
HUDSON Women's Barbara High Waist Super Skinny Jeans
You can also try the Women's Barbara High Waist Super Skinny Jeans by HUDSON. These super comfortable jeans are made with 97% Organic Cotton, 3% Recycled Elastane fabric. They are very trendy and easy to pair with. This pair of skinny jeans look amazing with boots. This Skinny fit features a 10-inch rise and a 10-inch leg opening. The zipper closure makes it look more classic and vintage.
People also ask
Are skinny jeans tight in the waist?
Are you having trouble finding jeans that fit well in the waist? You're not alone. Many women have a hard time finding jeans that fit well in the waist, especially if they are looking for a pair of skinny jeans.
The good news is that there are a few things you can do to help ensure that your skinny jeans fit well in the waist. First, make sure to try on the jeans before you buy them. This will give you a chance to see how they fit in the waist and whether or not they are too tight.
If the jeans are too tight in the waist, you may want to try a different size. Also, make sure to choose a pair of jeans that has a bit of stretch to them. This will help to ensure that they are more comfortable to wear and that they will fit better in the waist.
Do skinny jeans look bad on skinny people?
There is no definitive answer to this question as it is subjective. Some people may think that skinny jeans look bad on skinny people because they accentuate their slenderness, while others may find this to be a desirable look. Ultimately, it is up to the individual to decide whether or not they think skinny jeans look good on them.
What are some alternatives to skinny jeans?
Some alternatives to skinny jeans are jeggings, bootcut jeans, and wide-leg jeans.
Do skinny jeans stretch? Why do skinny jeans stretch?
Skinny jeans are designed to be tight-fitting, so they are usually made of materials that have some give, like denim. Over time, skinny jeans will usually stretch out a little bit. This is because the fabric relaxes and conforms to your body shape. The amount that skinny jeans stretch varies depending on the type of denim and how often you wear them.
Why do my skinny jeans get loose?
As you lose weight, your clothes will start to feel looser. This is because when you gain weight, your body stores more fat, which makes your clothes feel tighter. When you lose weight, your body burns off that stored fat, which makes your clothes feel looser.
How should super skinny jeans fit?
Super skinny jeans should fit snugly on the body without being too tight. They should also be comfortable to wear and not cause any discomfort. The waistband should sit at the natural waistline and the jeans should not gap at the back.
Are super skinny jeans stretchy?
There's no such thing as "super skinny jeans". The term is used to describe a style of women's jeans that are tight-fitting through the hips and thighs and have a very narrow leg opening. These jeans are usually made of stretchy denim, which makes them comfortable to wear and easy to move in.
Are super skinny jeans bad for you?
Super skinny jeans may be fashionable, but they're not necessarily good for your health. Wearing jeans that are too tight can cause a number of problems, including:
• Blood circulation problems. When your jeans are too tight, they can constrict blood flow and cause pain, tingling, or numbness in your legs.
• Digestive problems. If your skinny jeans are so tight that they compress your stomach, they can cause indigestion and heartburn.
• Urinary tract infections. Skinny jeans that are tight in the crotch can lead to UTIs, since they can trap bacteria and moisture.
So, while you may look great in your super skinny jeans, it's important to be aware of the potential health risks. Choose your jeans wisely and don't be afraid to give your legs a little breathing room!
What are super stretch skinny jeans?
Super stretch skinny jeans are a type of denim that is designed to fit snugly and flatter the figure. They are usually made from a cotton-lycra blend that gives them their stretchy quality. Many women love wearing super stretch skinny jeans because they are comfortable and figure-hugging.
The Final Words
Now you know what is the difference between skinny and super skinny jeans! We tried to cover all the relevant information you need to know.
So, you can expect to have a good knowledge about their differences by now! We hope you found our article really helpful!
Best of luck!