Levi's 505 vs 514 Jeans: What are the Differences?
Jeans are one of the favorite choices among teenagers and adults. There is a variety of jeans available out in the market. But when it comes to Levi's, you can't resist buying one. Among many other designs from Levi's, 505 and 514 are two famous ones.
But what is the difference between Levi's 505 and 514 jeans?
Well, both 505 and 514 are considered straight-fit jeans. The main difference is the 505 feels slightly slimy under the knees. Whereas, 514 has a consistent straight-cut structure. The 514 fits quite comfortably than the 505 one. Moreover, 514 has a stretchy finishing while 505 doesn't.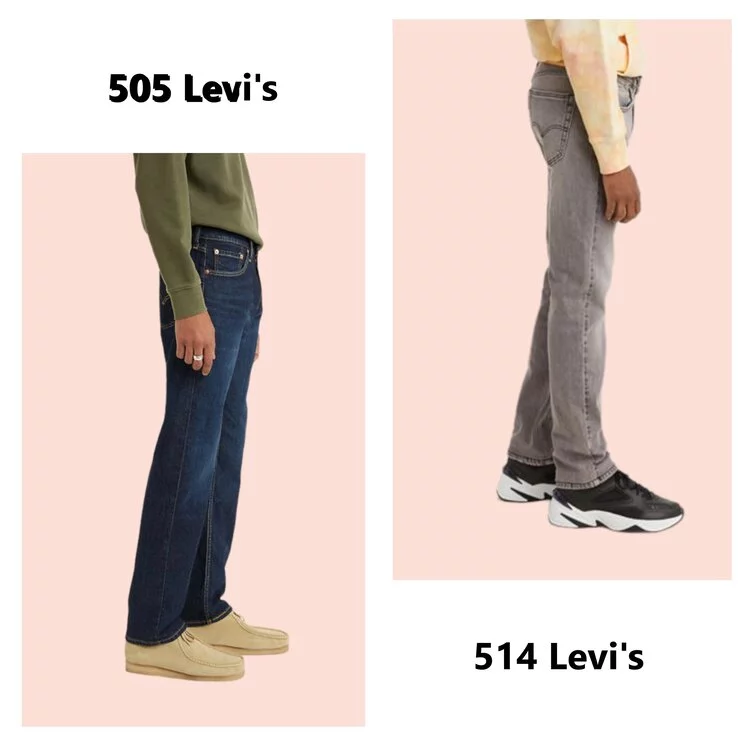 This was just a sneak peek. We will be discussing each selection broadly. So, if you have a few minutes, stick with us!
Relative:
What is the difference between Levi's 517 and 527 Jeans
What Is Levi's 505 Jeans
Levi's 505 jeans are classic regular straight-fit jeans. This model was specially designed for men with a view of straight-leg-cut style. Although Levi's produces this design for female customers as well, maintaining the straight leg and relaxed fits.
505 regular fit is recognized as one of the most renowned jeans series from Levi's brand.
So, let not waste any more time and directly dive into the measurement section-
Measurements of 505
As jeans are considered the top fashionable apparel out in the fashion industry. Moreover, jeans can sit with any type of looks and occasions if you carry the jeans correctly. Thus, people firstly notice jeans measurements and their extraordinary features.
So, let's set our concentration towards the measurements now. The measurements of 505 jeans for size 30: rise 10.5", hip 20", thigh 10.5" and leg opening 7.5". The 505 jeans are advertised as straight fit down the knees. Yet the upper thigh area is some sort of slim fit. Because of its short space for the thigh areas.
Now, you're probably thinking about Levi's 505 fittings and comfort. So, does Levi's 505 fits the body comfortably?
Yes, in most cases. The brand says they designed extra room for thighs and seats. Even though the jeans seem slightly cramped for some people. Then again the straight leg opening is quite comfortable and it adjusts perfectly with different shoes.
Even though the brand calls it straight-fit, yet it looks like a slim-fit from the knee up. Moreover, the waist of the jeans ends up right below the natural waist. So, it will be a suffocating situation for some of you.
Therefore, the mid-high rise design is more suitable for women who are keenly skinny. But people with top-heavy figures won't be as comfortable as slim ones.
Relative:
American Eagle vs Levi's Jeans
Features of 505
The most desiring feature is the classic five-pocket style along with Levi's 'V' stitching on the back pockets. The length of 505 is a regular one ending below the ankles. So, it has the flexibility to pair up with any boots or high heels alike.
The 505 jeans are produced with a zip fly and button on the top hem. Lastly, there are multiple belt hoops for accessorizing your outfit.
Levi's uses two different materials for producing 505 regular straight-fit jeans. The first materials are 99% of cotton and 1% of elastane. This material is comfier and wears better. In general, elastane helps the jeans to last long.
The second type of materials is 78% cotton, 21% polyester, and 1% elastane. So, you can see Levi's always considered elastane as an important element. Because they prioritize durability along with comfort.
Now, a question probably floating in your mind, what weight are Levi's 505 jeans?
Usually, denim pants weigh in between 10.5 oz. to 12.5 oz. Levis jeans are mostly crafted from midweight denim such as the 505.
Now you're probably wondering, are Levi's 505 true to size? Yes, they are!
Another popular question about these jeans is,
Are 505s Dad Jeans?
It's a big yes! The Levi's 505 are truly famous as dad jeans. 505 is considered the epitome of dad jeans and embodies the 1960's in every aspect. Starting from rock stars to hippies, to trendsetters even the models always preferred 505 as their top choice. 505 jeans repeatedly hit the fashion industry and have reigned since '60s.
Sometimes, you might think, did Levi's stop making 505 jeans?
Since 2003, Levi's gradually minimized their production in the USA. Levi's recently stopped producing their One Series of 505 called "505 Straight fit" model jeans in America as well. So, the second thought in your mind is, what happened to 505 straight fit jeans?
The 505 regular fit jeans and 505 straight-fit jeans are two different series from Levi's. Neither they are the same product, nor are they the same jeans. Previously, Levi's used to sell 505 as 'Straight-Fit' jeans to the consumers.
Lately, they stopped making this model and replaced it with 'Regular-Fit' design. This newly came 505 model provides fewer slopes. Moreover, it doesn't seem to fit worth a damn compared to the previous one.
Finally, you're wondering what are Levi's 505 Straight fit alternatives?
You can choose 501 original, 559 relaxed, or even 527 jeans as 505 Regular fit alternatives. Levi's brand manufactures hundreds of designs regularly. So, there's a vast scope to choose your most favorite denim among these.
What is Levi's 514 Jeans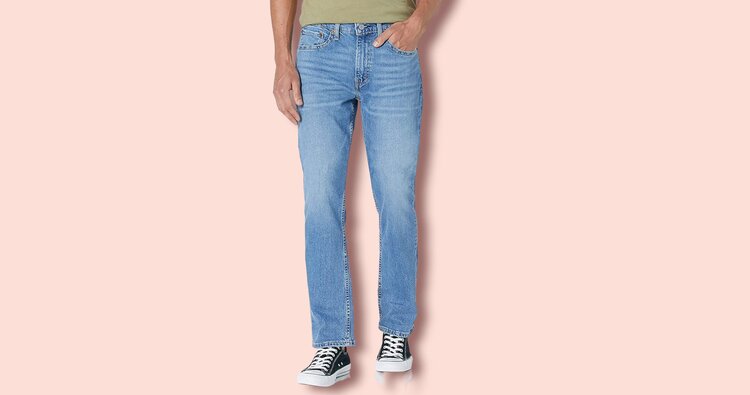 514 straight-fit jeans, another stylish design produced by Levi's. This is also a straight-fit model. It will show your figure without making you feel uncomfortable. But, Levi's concentrated more on men while designing the 514 models. So, it has a very limited range for female consumers.
The most important question arises in your head, Are Levi's 514 popular?
Absolutely, it is! 514 is a very popular design among comfort lovers. Men who aren't comfortable with slim fits, choose 514 as their first choice. This Levi's design provides them with a clean look and doesn't seem too baggy. Moreover, the straight-cut design allows them to move comfortably.
Here, we will be directing you to the measurements and features of 514 jeans. Stay tuned-
Measurements of 514
514 is comfortable day-long wear that you can carry for any type of occasion. Its straight-cut design allows you to move your body freely. Moreover, its user-friendly material composition allows the utmost comfort. Hence, 514 can be a perfect choice if you're concerned about quality and comfort equally.
However, you might be wondering, what are Levi's 514 measurements?
It is really crucial to acknowledge your denim measurements. Let's choose an average size and measure the components. Measurements of size 32: front size 10.25", knee 17.5", leg opening 16".
Unlike the 505, this design maintained a constant flow of the straight-cut design. From upper thighs to the lower knees it has a straight-fit consistency.
Now, the next question arises in your head, what fits Levi's 514?
Fashion enthusiasts have a positive view of 514's fittings. 514 is a regular straight-fit that fits through thighs and seat. Moreover, because of the low rise, it seats below the waist. Thus it's suitable for a variety of body types. But it's more preferable for skinny people who are slimmer on top.
Well, now let's move on to the feature section. There, we will be sharing some extraordinary quality of 514.
Features of 514
In the first feature, we will talk about the material compositions. 514 is made of 99% of cotton and 1% of elastane. Now, you might be asking, are all Levi's 514 stretchy?
No, not all of them. But the large majority of the 514 series is stretchy enough. While producing, cotton and elastane blend thoroughly and generate a stretchy fit. But some 514 models have a minor amount of elastane or 100% of cotton materials.
In that case, the stretchiness decreases and those pants seat the body tightly.
Your next thought is probably, what weight are Levi's 514 jeans?
They contain almost 14 oz. Levi's 514 straight-fits are a little bit heavier than 505. 514 comes with the five-pocket styling and they're close with a zip fly. Moreover, the jeans have the staple Levi's "V" stitching on the back pocket.
You can also accessorize the jeans as it has multiple belt loops. All these materials used to manufacture the pants lifted their overall weight.
We've heard another common matter people ask, do Levi's 514 fit over boots?
Yes, you can wear boots over your 514 jeans. 514 is popular for its straight leg relaxed fit. They have the space for a versatile styling option available. You can style them with boots of different types, sneakers, and flats. You can even carry them with high feels if you're creating a chic and sensual look.
The final question roaming in your head is, are Levi's 514 discontinued?
Sadly, yes. Levi's has stopped the production of the 514 jeans series in the USA. But Amazon still has some sizes available. check those here
What are Levi's 514 alternatives?
But there are alternatives like 514 classic straight fits, 550 regular straight fits, etc. These models are quite similar to the 514. So, you can also pick one of these.
Anyways, we are done with our vast discussion about the features of both jeans. Now, let's move on to the comparison section. In the upcoming segments, we will present the key distinctions among these jeans.
Key Differences: Levi's 505 vs 514
Both Levi's 505 and 514 jeans share similarities. Yet they have some distinctions between them. So, we are here to enlighten you on the key differences between 505 and 514.
Let's have a look-
| Feature | 505 Jeans | 514 Jeans |
| --- | --- | --- |
| Fit and cut– | Slightly Slimmer Fit | Straight Cut |
| Material– | Less Durable | Durable |
| Color and wash– | Minimal Highlighting and fewer Color Options | Minimal Highlighting with More Color Options |
Now, we'll deeply discuss these features right down below. If you're interested enough, let's jump into the wagon!
What's The Difference Between Levi's 505 and 514 Jeans
In the last segment, we showed the key differences between the two models. But this much information isn't helpful for you. So, we're thinking to compare Levi's 505 and 514 in a Broadway. Stay tuned!
Fit and Cut
Both of the jeans are straight-cut designs. Although, 505 is slightly slimmer than the other one. This minimizes its popularity among a group of people. Yet 505 has a high rise feature and it fits more suitably in different shapes and sizes.
So, people with different body structures can choose 505 jeans.
While on the contrary, 514 has a consistent straight-fit structure. It provides much more comfort than 505. But it has boundaries for rising limits. This model isn't favorable for all. However, regarding their length, both jeans are similarly cut.
Their length structure ends below the ankles. Although it might seem unusual, this cutting fit in 514 makes the 514 more durable. That means, 514 will fit properly in your body for a longer timer than 505.
Material
The materials composition is almost the same for 505 and 514 jeans. Because both of our Levi's jeans are produced of 99% of cotton and 1% of elastane. Yet the 505 is way slimmer than 514, therefore it has more chance to be prone to tearing.
Contradictorily, 514 has a constant straight cut fitting, so material durability is high in it.
However, these two straight-fit jeans are made using Water<Less technology. That means, the brand saved water during its manufacturing. So, environmentalists can easily wear both 505 and 514 without any hesitation.
Color and Wash
The most amazing fact for 505 and 514 is both are available in different color shades. You will get almost seven different color tunes available for 514 straight-fit. Whereas, 505 produces only five colors.
However, in each scenario, they are produced with minimal highlights. Minimal highlighting helps to style better for curvy women. Because it does not bring any attention to the thighs.
Well, with this we conclude today's topic. We hope this comparison gives you a better idea of the differences and similarities between these two designs.
The Latest Alternative Model Available From Levi's Jeans
We've discussed a vivid description of the differences between 505 and 514. Now, you can come to a decision which one perfectly suits you.
However, Levi's provides a huge collection of regular straight-fit jeans. These jeans are as popular as 505 and 514. Those jeans are undoubtedly stylish and super comfy!
Quite exciting, right?
So, let's have a look at other complementary designs and enhance your jeans experience-
Levi's 501 Original Jeans
501 original jeans are one of the most popular jeans from Levi's. This model is a classic Levi's fit jeans and one of the oldest straight fit series. It's been almost 150 years since Levi's produced this model. Yet the fame never faded away.
The measurements from size 32: front rise 12.25", knee 18.62", leg opening 17". 501 jeans are non-stretchable denim produced with 100% cotton material. It's a regular fit through the seat and thigh. It also sits at your waist perfectly with a button fly and straight leg.
501 creates an hourglass shape from the backside and creates a stylish look. The 501 original model comes up with a sturdy look and will last long.
However, these are straight-fit jeans, even though they stick tightly in thigh areas. But if you're on to skinny jeans then it's a perfect pair for you. So, just hit the website and order before it's stocked out!
Levi's 559 Relaxed Jeans
This one is absolutely the most comfortable jeans out in the market. Levi's 559 relaxed straight-fit jeans have larger size portions compared to any other relaxed series. You will get about 98% cotton and 2% elastane in these jeans.
The measurements from size 34: front rise 10.38", leg opening 16.5". These jeans contain the widest hip-opening close to 21". Moreover, there will be extra room for the seat and thigh. Therefore, it's gonna be a great choice for thick guys out there.
However, there's a lot of space provided on the upper side. Yet it won't look baggy under the knees. It feels quite comfy as 559 provides plenty of leg space.
559 will be regular wear if comfort is the main key to you. So, place your order immediately before it's too late!
Levi's 527 Bootcut Jeans
Levi's 527 bootcut series are modern slim-fit jeans. 527 are specially designed for pairing up with boots. For those who love to wear work boots, these jeans are a go-to attire.
The jeans are considered a slim fit because it's slim through the seat and thigh. Moreover, it sits on your waist tightly. Though it has a wide leg opening and bigger space under the knees to fit over boots.
The materials used for 527 bootcut jeans are 88% of cotton, 11% polyester, and 1% elastane. The jeans moreover contain zip fly and 5 pocket styling. If you launder the jeans correctly, they will last longer.
So, if you're on to skinny-fit jeans, this one is a good option for you. So, hurry up! Grab yours before the stock runs out.
These are the topmost regular straight-fit jeans available on the website. You can also purchase different types of attires and accessories from this site. So, get your phone or laptop, and start browsing the website to get your desired product!
Conclusion
Well, that's all for today. We tried to explain the difference between Levi's 505 and 514 jeans broadly. Hopefully, you got all the answers regarding your confusion.
We hope this article was helpful to you. Now, you can effortlessly make your decision about choosing the right attire for you.
We will see you at the next one!