How to wear Skinny Jeans with Wedges and Look Good
You might think it's pretty difficult to style skinny jeans with wedges. There is a dilemma, are skinny jeans off-trend or not? You might also think if you're looking odd with the two items. But that's not true. You just need a little help with the styling.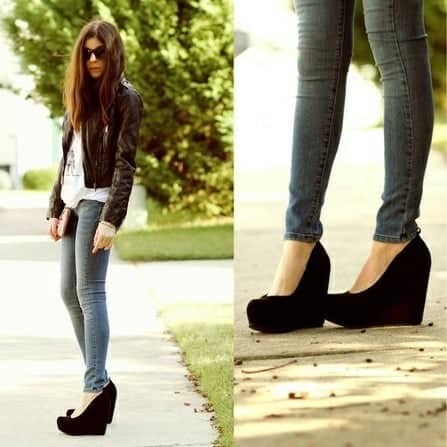 So, How to wear skinny jeans with wedges?
You can wear skinny jeans with different types of wedges. These include wedge heels, ankle boots, wedge sandals, and many more. You can pair them with long tight skinny jeans, Or you can cuff the jeans a little. Or you can make a big cuff to style yourself out. You can try on different tops to make sure you're looking trendy.
You are still pretty confused about this matter. Don't worry we have discussed it in detail so that you can understand. Jump on and read all the details.
You may also like:
What to Wear with Black Jeans and Black Shoes?
Do Wedges Go with Skinny Jeans?
Being a fan of slim-fit jeans you might be facing a dilemma. This might involve whether to style the pair of jeans with wedges.
Strappy heels might feel so dressy with jeans, or flat sandals can look bulky. And you feel like avoiding sneakers.
Obviously, wedges can be a great combination with skinny jeans. If you choose your wedges depending on location, you will rock on it. Here we have described some style tips with skinny jeans and wedges.
How to Wear Wedge Sandals with Skinny Jeans?
Wedge sandals can make an amazing combination with skinny jeans. Plus they are a great way to show how stylish you are.
Wedge sandals and jeans give you a carefree summer vibe. Now the question is, What wedge sandals to wear with skinny jeans?
For a very casual look, consider pairing with your wedge heels sandals or flat pointed toes sandals.
There are many ways you can style yourself with skinny tight jeans and a pair of wedge sandals. We have mentioned them below-
Option 01: Regular Tee
Skinny jeans and wedge sandals can be a great and amazing combination for your casual look. The look will be complete with a regular t-shirt. You can pick white, black or any colour t-shirt you want. It will always give you a carefree stylish look.
You might cuff your skinny jeans a little to show a little bit of your skin in the lower part of the leg. That will add an extraordinary vibe to the style. As well as add some young thought and sexy vibe to your style.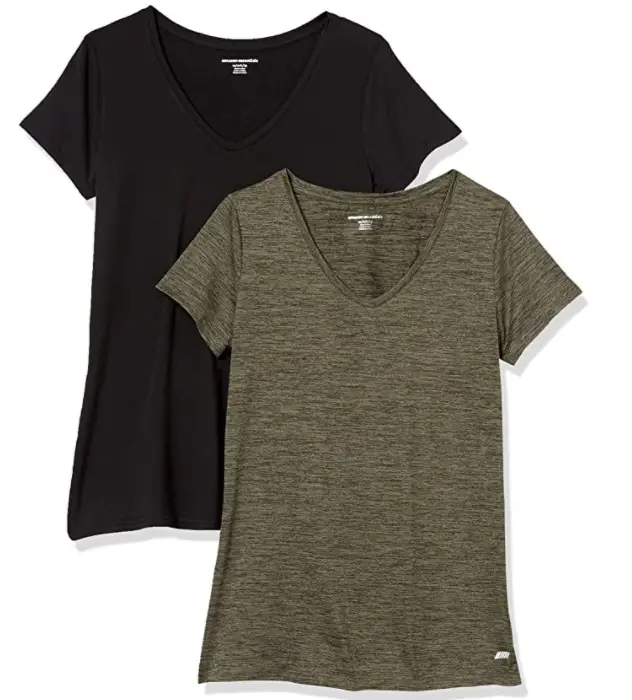 Option 02: Seamless Black Top
The colour black never goes wrong. With wedges sandals, you can wear black or blue skinny jeans and a black seamless top.
These will give you a casual and classy look without being too sloppy.
But remember, you should avoid pairing skinny jeans with a brought strap or heavy upper. It will give an illusion that your feet are bigger than they are. And no one wants that!
Option 03: An Elegant White Lace Blouse
Next up you can wear a white blouse with skinny jeans and wedge sandals. It would be better if you wear blue or black skinny jeans. You can choose any shade of blue.
For the wedge sandals, make sure the sandal colour matches the colour of the jeans. This will make your outfit stand out and people definitely praise your style.
You may also make a cuff to the jeans and it will combine the style amazingly. Also, this will surely give you a casual and modern, young vibe.
Important Tip:
Choosing the right color for sandals can also add a point to your style. Black colour sandals can be a great choice for every pair of jeans.
But if you don't want too flashy things then you can go for a mild colour. Also, if you want a bond and flashy style, you can go for yellow. It will add a bold statement to your style.
Now, you might not be that comfortable with wedge sandals. Or you might like to consider trying something else like wedge shoes.
In that case, keep on reading!
How to Wear Wedge Shoes with Skinny Jeans? sneakers Addition
Yes, of course. Skinny jeans can be a great combination with wedge shoes. It gives a summer vibe and there are many options to choose from.
You can style yourself as you like by pairing skinny jeans with wedge shoes. And they can never go off trend.
So here's how you can pair your skinny jeans with a pair of wedge shoes-
what top to wear with skinny jeans and wedges?
If you're looking for a chic and stylish outfit that will turn heads, then you need to know what top to wear with skinny jeans and wedges. This combination is the perfect way to show off your curves and look stylish at the same time.
Option 01: Choose a White Tee
Firstly, you might think about which top to wear with jeans and wedge sneakers. Well, we have the right top for you.
Always go with a white loose tee. This will make you look effortlessly hot and sporty. This is the best style for summer.
But if it's a bit cold outside, just put on a leather jacket to complete the look!
Option 02: Grab a Hoodie or Neutral Color Sweater
Next, let's think about winter. Winter fashion is very important to all. And you can never go wrong with a hoodie or sweater during this time.
So, pair up your jeans and wedge sneakers with any of these two items. Just make the colour neutral. This will elevate your look.
Option 03: Pick Striped Tee
With your wedge sneakers, you can wear t-shirts. But you'll get a unique and comfy look if you're wearing a t-shirt with strips.
Just tuck the t-shirt in your jeans and you're good to go!
How to Wear Skinny Jeans With Wedges Heels?
Firstly, wedge heels can be a great choice for your skinny jeans. Chunky heels single-soled are the best option to go with skinny jeans. A single-soled zero platform pump with a pointed toe or slightly round toe will rock your style.
Pump accurately the curve of the ankle. It shows an amazing featured lower leg. Plain skinny jeans will highlight the long leg with heels. High heels pumps give a plain sexy and as well as a trendy look.
Kitten heels pumps can also be a great style option for you if you have small feet. Chunky heels can be a great collection for your spring styling. Jeans with heels is nowadays the top trendy style to rock on.
But if you need some platform you can try some other styles also. There are plenty of styles to go with jeans and wedges.
You may also like:
What to Wear with Coral Jeans?
How to Wear Wedge Ankle Boots with Skinny Jeans? [Simple Styling Tricks]
Wearing wedge ankle boots with tight skinny jeans is another top trendy style. It gives you enough platform. Also, it looks sexy with jeans. That's why wedge ankles can also be a style collection for you.
Styling with ankle boots is easy and comfortable. On top of that, there can be plenty of ways you can style them-
Option 01: Tuck Into Boots
If your tight jeans are long enough then you should tuck your jeans into your boots. To check if your style is going to stay, take a few steps around the house. Check if your jeans popped out or not.
It will give you a complete look. This look is mainly for spring. But it will look super cool and amazing in any season.
Option 02: Fold Jeans Under
If your tight jeans are kind of short, this style will be perfect for your 3 quarter jeans. You can fold your jeans under your ankle boots.
Before tucking the jeans under, try to reveal a bit of skin between the ankle boot and jeans. It will add a comfy complexion to your style. This style will let you feel comfortable and make you look pretty also.
Option 03: One Long Cuff
All you need to do is make a long cuff above the long ankle bootie. Also, you need to be a little concerned to show some skin between ankle boots and jeans.
This style will give you a retro look. But you might want to try something different that gives you a fresh and modern look. In that case, you can say this style is perfect for you. It looks like you're making an effort to style yourself out.
Option 04: Cuff Inside
Cuffing inside can be another style on your list. If you try to avoid the retro look, this will give you an amazing independent look. As well as it will show your effort in your style.
All you need to do is to fold a couple of times under your jeans and tuck it into the boot. But you need to avoid fully tucking the jeans. Try to reveal a little bit of your cuff.
So, that's all the styles. Indeed wedge ankle boots will give you a cool vibe. But still, if you want to try something more stylish you can go for strappy wedges.
Can You Wear Strappy Wedge with Skinny Jeans?
Yes, you can wear strappy wedges with skinny jeans. And strappy wedges can never be off-trend.
If you consider wearing strappy wedges try to avoid high heels. It will be overwhelming to you if you are pairing high heels and skinny jeans. You can choose heels between 1 to 3 inches.
If you are trying to look chic for your date night, you can go for 4-inch tall strappy wedge heels. You can also try any strappy wedge with skinny jeans. You can also pair them with ripped jeans. It will surely look cool on you.
Best wedge and Skinny Jeans to have
There are too many brands. So, you might be confused about choosing the right one. But fear not! We have collected top-selling and top-reviewed wedge shoes for you.
Soul Naturalizer Haley Ankle Boots for Women
This chic pair of wedge ankle boots cost between $50 to $145. They are made with synthetic rubber and the platform height is about 0.25 inches.
So, you'll surely feel comfortable and confident in these boots. Furthermore, it's available in other colours too.
Levi's Women's Totally Shaping Pull On Skinny Jeans
Presenting you the gold level totally shaping pull on skinny jeans. They can be another option for you. Because the jeans are super stretchy and last from day to night. You'll get a snug fit and won't lose the jeans' shape. Plus it is a vintage worn-in look.
The jeans are skinny through hips and tight but comfy fitting. The jeans also have a mid-rise pull on waistband with a tummy-slimming panel. So, you'll definitely be able to flex your best features.
how to wear wedge booties with skinny jeans?
When it comes to styling wedge booties with skinny jeans, there are a few key things to keep in mind.
First, choose a pair of booties that have a bit of a heel – this will help to elongate your legs and make you look taller.
Second, make sure your jeans are fitted – too baggy and they'll look sloppy, too tight and you'll look like you're trying too hard.
Third, consider the overall proportions of your outfit – if your top is loose and flowy, balance it out with skinny jeans and vice versa.
And finally, have fun with it! Experiment with different textures, colors, and patterns to create a look that's all your own.
what to wear with black wedges and skinny jeans?
One great way to style black wedges with skinny jeans is to pair them with a flowy top. This can create a fun and flirty look that is perfect for a night out. Another option is to wear a fitted top with your skinny jeans and black wedges. This look is more casual but can still be dressed up with the right accessories.
Conclusion
So, that was all about how to wear skinny jeans with wedges. Hopefully, you have chosen your style.
After choosing the outfits, you can add some accessories to your fit. For example, hoop earrings are a nice pick when you're picking something casual.
Anyways, that's about it! Good luck styling your wedges with your skinny jeans.