Tapered vs Slim Jeans: Which is best fit for you?
Finding clothes that flatter your body shape might be tough at times. Do you wish to get some jeans? Then you must be familiar with the appearance of each cut before making your decision!
So, you have come up with a choice of two, tapered and slim jeans. But you don't know their difference!
So, Tapered Fit vs Slim Fit Jeans: What Is the Difference?
Well, these two types of jeans may look the same to many. But there are actually some subtle differences between them.
The main difference between tapered jeans and slim jeans is the shape of the jeans and their size. tapered jeans are narrow at the ankles, while slim-fit jeans are narrow at the waist and buttocks.
I know you didn't understand the difference between the two products with this little two line so we discussed the differences in detail. You can find out by reading the whole article and which one will be best for you.
Sounds good? Get started!
What Are Tapered Jeans And Slim Jeans?
Before we go into the differences, you need to know about them. You can't differentiate between two types of jeans unless you have a clear idea about them. So, take a look at the description we've provided for you!

Relative:
What is the difference between Skinny vs Super Skinny Jeans
What Are Tapered Jeans?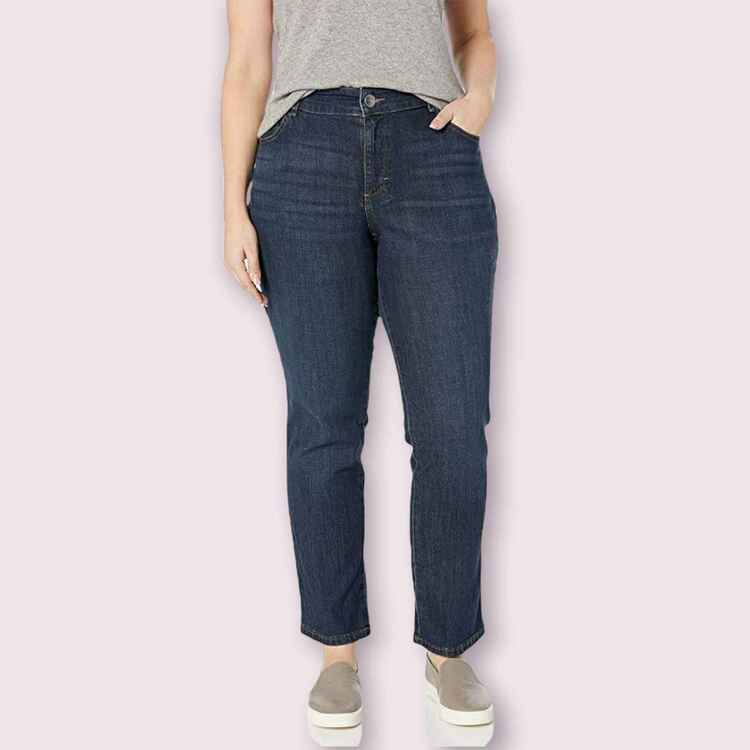 You may have a common question, what is Tapered Fit? A clothing style with a broader top part is known as tapered fit jeans. It also features a lower part that is thinner.
The tapered fit is a phrase that is used to describe a wide range of garment styles. Shirts, coats, and pants are all included.
Manufacturers occasionally use the term "tailored" instead of "tapered." However, tailored may not automatically imply a tapered silhouette. Tailored can also refer to a classic cut, as defined by professional clothing designers.
The style is a little looser than most tapered cuts. Women's pants did not have any form of close-fitting, tapered legs, which is a fascinating item of fashion history. It was until the 1950s' renowned cigarette pants.
Taper fit refers to a tapered leg in pants in today's fashion jargon. This means that the pants' waist and hip areas will fit as expected. However, the pants' legs will tighten around the ankle and width from thigh to ankle, giving them a tapered appearance!
Like the letter V, this shape always has a wider top and a skinnier bottom. Pants with a tapered cut look fantastic on a variety of body types. They have a stretchy waist and hips.
They also give your legs a shapely appearance when they pinch in at the ankles! However, if you wear tapered fit pants and have broad shoulders, you may end up looking like an inverted triangle!
Now you may wonder how to wear tapered jeans? Well, you can wear it just like the general jeans or pants. Your jeans should be able to fit around your waist without the use of a belt. It should be close to the body but not too tight.
For most men or women, a small taper in the leg is preferable. It would assist to avoid a bell-bottom appearance.
What Are Slim Jeans?
Now, you may wonder what is Slim Fit in general. Slim-fit jeans have a beautifully close cut all the way through the fabric. These are used to get rid of any surplus fabric, which is neither too tighter fitting nor too loose. Slim fit pants have a slim waist and seat, as well as slightly slender legs.
Slim-fit shirts have a straight-cut waist and a narrow shoulder and chest area. But Slim-fit jeans offer a nice fitting look to them. It is not, however, as tighter fitting as slim jeans.
Slim-fit jeans are a perennial favorite among people of all shapes and sizes. Because they're more comfortable than slim jeans. However, they have a more fitted and stylish appearance than straight-cut jeans.
A narrow leg opening is common in slim-fit trousers, dress pants, or chinos, straight jeans. It is not suitable for people with large thighs.
On men and women with a slender body type, this style can seem attractive. However, somebody with a rounder body shape will not look good in it.
Difference Between Tapered Jeans And Slim Jeans
Although tapered and slim jeans can look alike, they are actually not. People can get really puzzled by these two types of jeans. So, we have got the differences between them given below-
Shape Of The Jeans
Clothing with a tapered fit has a V shape with a broader top and narrower bottom. Slim fit clothing, on the other hand, has a continuous tight cut throughout. Standard or straight-cut clothing has a closer cut than a tapered or slim-fit garment.
Tapered jeans can have a little or more pronounced taper toward the ankle. It pinches the leg all the way down the leg, terminating in a tight-fitting ankle. Remember that these jeans typically have a loose seat.
These, too, have an intermediate waist and thigh area. As a result, tapered jeans are likely to be really comfortable!
Slim-fit jeans, on the other hand, feature a tight fit through the waist, thighs, and ankles. They usually don't have the same tight look or feel as slim jeans. They do, however, contain little leg openings where the seat meets the pants' legs.
Size Of The Jeans
Slim-fit jeans have a significantly larger range of motion than skinny jeans. In some places, this might feel extremely confining! Slim-fit jeans may have a slight taper at the ankle.
However, they tend to have a wider angle than tapered jeans. It's easy to mix up tapered and slim-fit jeans because of this.
But there's a simple way to tell which one is which! Just make sure the seat and thighs fit properly. tapered jeans usually have a looser fit, In the waist area. There is a stylish silhouette in contrast to skinny jeans.
In terms of looks, tapered jeans can make you look even thinner. There is no significant change in the appearance of slim jeans, In contrast to that. You would look exactly the same when you wear slim jeans.
So, if you are thick, you look thick. And if you are thin then you would look thin wearing slim jeans.
So, these are the differences between these two types of jeans.

Relative:
What is the difference between Levi's 505 vs 514 Jeans
Similarities Between Tapered Jeans And Slim Jeans
We have come across the differences between these two types of jeans. So, you may think that these jeans are not similar in any way. But in contrast to that, these two types of jeans have actually a few identical features.
So, let us see what their similarities are!
Fit Of The Jeans
Both of these jeans are tighter than regular-fit jeans or straight jeans. So, these types of jeans do not make the person look fatter. These would make the person look as he or she is, if not thinner!
Price Of The Jeans
Although these two types of jeans are not the same, their prices are similar. If you look at various stores or online websites, you'd notice that the prices are more or less similar. You would most likely need to pay around $25 to get jeans of these types.
Some of the products from these two jeans
We have read about the differences and similarities between these two types of products. But you might not be confident enough choosing the products at a good deal! So, we have got a few products of our best pickups! Take a look below.
Tampered Jeans
Levi's Men's 502 Taper Jean
These athletic-fit jeans are one of the best tapered fit jeans you can come across! You can enjoy 92% of cotton, 6% Polyester and 2% of elastane in these jeans. Button closure is available and quite flexible in these. You can get these jeans into a wash anytime which is a perk!
So, make sure to get yours before the stock runs out!
Gloria Vanderbilt Classic High Rise Tapered Jean for women
These Classic high rise tapered jeans can be vintage and exclusive at the same time! All you need to do is grab your one before the stock is over! Wondering about the fiber? Well, you get 100% cotton in these jeans.
To add to that, you can wash these jeans with detergent anytime! It is one of the high selling products of Amazon which is available in various colors and designs.
Slim Jeans
Levi's Women's Slim Fit Jeans
These slim Levi's jeans are the trending jeans in the market now. Do you wonder why? It is actually because of the convenient features! You get this in a wide range of colors and sizes. Moreover, these jeans are washable as well!
Levi's Men's 511 Slim Fit Stretch Jeans
These Levi's slim looking jeans are 99% cotton and 1% Elastane. You don't have to worry about the fit of these jeans. Because these jeans can fit anyone comfortably, giving a dashing look! In addition, you get a camouflaged zipper closure with these skinny jeans!
There is another type of jeans on the market called Slim Tempered Jeans which is a combination of these two.
People also ask
What Are Slim Tapered Jeans?
If you look at the shape of your feet if they come closer to the ankle and become narrower than usual. Tapered fit jeans are usually made in this shape. Tapered jeans slowly become narrower at the ankles, just like your feet. So tempered jeans protect you from baggy, and extra fabric below the knee. And the shape of your feet helps in showing.
If you look at the shape of your feet if they come closer to the ankle and become narrower than usual. Tapered fit jeans are usually made in this shape. Tapered jeans slowly become narrower at the ankles, just like your feet. So tempered jeans protect you from baggy, and extra fabric below the knee. And the shape of your feet helps in showing.
Who Should Wear Slim Tapered Jeans?
The tapered fit of slim tapered leg jeans makes them a good choice for women with thin legs. This is great for men who don't like baggy jeans and want to draw attention to their legs. This also flatter most body types and can be worn by guys of most body types. It has a classic straight cut and is a great choice for women with slim figures. However, some women do not like the look of this style.
How to Wear Slim Tapered Jeans?
Tapered jeans are cut to be tight around the waist and ankle. These styles are not flattering to guys with thick thighs or wide hips. Moreover, they can't be rolled up because there's not much slack at the ankle. Therefore, you should always know how to wear slim tapered jeans, not the same method as tapered fit pants. You can use the following tips to wear slim tapered jeans with style and confidence.
The tip: when wearing these jeans is to know how to pair them with different tops. A form-fitting pair is perfect for work, while the other pair is good for weekends, gatherings, or walks. Whether you're wearing skinny or tapered jeans, you can always pair them with flats, ballet shoes, sandals, or Chanky. You can also wear airy tunics and short-sleeve tops, slim-fit shirts to add a feminine touch.
What To Wear With Tapered Jeans?
We understand that you might get confused about choosing the best complement with tapered jeans. But why worry when we've got your back! So, what to wear with tapered jeans?
Tapered jeans can be worn in the same way that regular jeans are worn. Wear them with a t-shirt and white shoes for a relaxed look. You might also pair them with a pair of business casual shoes. A blazer and a button-down shirt or white shirt might also work, to enhance the styles of jeans!
Remember one thing! A pair of shades and a classy watch would always make you look alluring!
Are tapered jeans good to wear?
Tapered jeans give you a customized look without the need for a tailor. They slim you down by flattering the natural form of your legs. You appear to be a well-dressed man when you wear them. They are flattering on practically all body types. In addition, you can get them at a reasonable price as well.
Are the tapered jeans stylish and trendy?
Yes, tapered fit jeans are really stylish and trendy. Tapered jeans are ideal since they give you a tailored, fashionable look. Everybody would look great in this outfit. Tapered jeans come in a variety of styles, depending on whether you like a loose or slim fit. It can be tailored to your own requirements and preferences.
The Final Words
Now you know what is the difference between tapered and slim jeans! We believe you have quite a good idea about their differences now! We hope it was a worthwhile read.
If you know anything different about these two jeans then share through the comments. Which jeans do you think are best for you? We're glad to hear from you.
Good luck to you!