Levi's 517 vs. 527 Jeans: What are the Differences?
The Levi's 517 and 527 are very similar bootcut jeans. Differentiating them and choosing the right one can be very confusing. And that's a dilemma almost everyone faces.
So, what is the difference between Levi's 517 and 527 jeans?
The fitting, front and back rise, and the material makes the difference between these two. The 527 jeans are slimmer than the 517 jeans. Also, The 517 jeans are to be worn at the waist. Whereas the 527 jeans are to be worn below the waist. The 517 jeans are made from cotton. But the 527 jeans have a stretch material for added comfort.
We have a detailed article with a quick comparison table and much more for you! Let's not waste time and hop into it!
Relative:
American Eagle vs Levi's Jeans
Levi's 517 vs 527 Jeans: Quick Comparison
Now we know that you may be aware of this already.. But it's ideal to have some basics regarding Levi's 517 and 527. This will give you a better knowledge about them. Go through their basic differences mentioned below-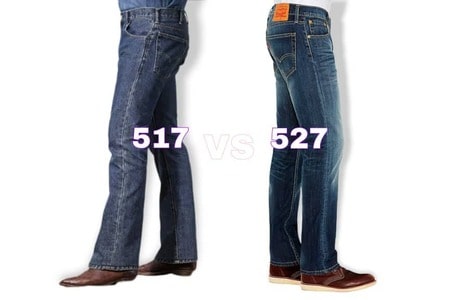 | Features | Levi's 517 Jeans | Levi's527 Jeans |
| --- | --- | --- |
| Thigh adjustment | Thighs are similar to a straight cut. Lower calves flare Wide. | Slimmer fitting in the thighs. Overall narrower than 517s. |
| Fitting | Easily fits over heavily padded boots. | Can over fit high top sneakers, not ideal for padded boots |
| Material | Made with sustainable Water<Less™ techniques. | Stretch and non-stretch, both washes are available. |
| Stretch Quality | Non-stretch denim | The stretch is made with +Levi Flex technology. Providing maximum stretch and comfort. |
| Look | Gives out an original cowboy look. | More urban kind of look. |
Now that we know the basic differences, let's hop into the detailed discussion.
Difference Between Levi's 517 and 527 Jeans
These jeans are fairly similar in general. Both will have a narrow thigh and a standard boot-cut leg opening. Both of these have a zip fly closure. Yet there are differences in fitting, the front and back rise. Also, how these jeans lay on your waist and the materials are different.
Fitting
Wondering what are Levis 517? Well the Levi's 517 is slightly looser than the Levi's 527 around the thighs and calves. Levi's 517 has a classic bootcut design, while Levi's 527 has a slim bootcut design.
Even though it's nothing far apart, Levi's made these two different focusing on this factor.
Front Raise and Back Rise
The Levi's 517 has a front rise of 11 inches. And what is the rise on Levi's 527? Well, the Levi's 527 has a front rise of 10.5 inches. On the other hand, Levi's 517 has a back rise of 13 inches. While Levi's 527 has a back rise of 14 inches.
In comparison to the 527 jeans, the 517 jeans feature more space in the front. And less space in the back. Basically, the hip portion measurements are different.
Material
The Levi's 517 is made with 100% cotton fabric. The material used is non-stretch denim. Since Levi's 527 is slimmer than the 517, it has stretch material. It's made with 84% Cotton, 15% Organic Cotton and 1% Elastane. It helps with the mobility and comfort of the wearer.
People who look for stretch fabric usually pick Levi's 517. The ones who look for authentic old-school bootcut, pick Levi's 527.
Where it Sits On The Waist
Levi's 517 is made for wearing on the waist, not too low or not too high from the waistline. While Levi's 527 was made for wearing below the waist. Modernization of the 527 jeans evolved from sitting on the waist to below the waist.
Relative:
What is the difference between Skinny vs Super Skinny Jeans
Similarities Between Levi's 517 and 527 Jeans
Both of these pairs are bootcut and are very much alike. Since these two jeans are from the same brand, they are quite similar, so we also provided a few similarities between these two.
Here's a list of similarities between the Levi's 517 and Levi's 527 jeans.
Both these jeans follow almost the same design. Slim upper leg and thighs and boot cut opening. Both pairs of jeans feature a classic bootcut look.
Both the jeans are amazing for a classic vintage and old-school style. Bootcut is famous for its cowboy and western vibe.
Both these jeans have a similar fitting. Basically, it almost feels the same around your legs.
The bootcut jeans, when styled with a boot look almost identical from a distance. Someone standing at a distance will hardly find any difference.
How to Style Levi's 517 and Levi's 527 Bootcut Jeans?
The old-school 70's bootcut jeans are meant to be styled with vintage clothes. We're gonna give you a quick guideline to style them, so that you look great. So how do you style Levis 517 and 527 jeans?
Try styling these jeans with some thin stitched T-shirts . Go for plain color T-shirts and avoid anything too bright or vivid. Tuck them in your jeans on the waistline. Use the full functionality of the bootcut jeans by pairing them with a leather boot.
You can also try on a cowboy hat if you really wanna experiment with your 70's look. Add more flavor by wearing some jewelry or accessories like chains and dog tags.
Buttoned-up relaxed fit shirts can also be a great choice to pair them with. You can tuck it in or keep them out as your preference. Both will look great. Make sure you wear a vintage leather boot as that looks best with bootcut jeans.
You can also try dark marten loafers for a change of taste. Camp collar shirts can add more personality to your outfit.
Oversized shirts can bring out the 70's vibe in your outfit. Pair your jeans with a checked oversized shirt. Pair it with a leather shoe to bring out the 70s cowboy vibe.
Which One to Get?
If you are looking for an old-school authentic vibe, Levi's 517 is the preferable option. It's also preferable if you wear padded boots or heavy-duty boots. The wide bootcut helps to fit boots in it perfectly and looks great. 100% cotton fabric will be very comfortable to wear as well.
So if authenticity and big boots are your vibes, go for Levi's 517 bootcut jeans.
If you're looking for more of an urban and modernized look, Levi's 527 can be your ideal pick. It's slimmer than the Levi's 517 matching the trend. Ideal to pair with high-top sneakers and light boots. Its stretch fabric can ensure good mobility. Goes well with the updated trend.
If you want comfort in day-to-day use with a modern fashion touch, Levi's 527 is ideal for you.
Levi's 517 Jeans
Levi's 517 bootcut men's jeans were made in 1969. Particularly to fit over boots. It's cut to sit at the waist with a zip fly closure. The jeans feature a slim fit through the thigh with an authentic bootcut leg. These are made with sustainable Water<Less™ techniques. These are heavy-duty pants that ensure comfort. They have been looking great with boots for generations. And they are made with 100% cotton, not stretch denim.
Levi's 527 Jeans
The 527 Thin Bootcut jeans by Levi's are a modernized twist on bootcut jeans. Featuring a slim fit through the thigh and a slightly narrower bootcut leg opening. It is available in both stretch and non-stretch denim wash. And is made with + Levi flex, which is the latest technology for Levi's. It provides maximum stretch with sheer comfort. It comes with a zip fly closure. The fabric contains 84% Cotton, 15% Organic Cotton and 1% Elastane.
Conclusion
This is the end of our article. Now you know what is the difference between Levi's 517 and 527 jeans. We hope we could clear out all your confusion. Contact a professional if you still have questions.
Till next time, best of luck!