What to Wear with Coral Jeans and How to Style with it?
Have you grown tired of always wearing the same blue denim jeans? So, you took yourself shopping and bought a pair of coral jeans. But you're not sure of how to style the coral jeans.
So, What to wear with coral jeans?
You will be surprised to know that you can wear coral jeans with almost anything. You can wear them with shirts, t-shirts, sweaters, blazers, turtlenecks and many more. You can also wear denim shirts and denim jackets with them. For partying animal print tops and sheer tops can also be paired with them.
That was just a sneak peek. You must be really eager to know about all the details. And we've prepared the details in simple words.
So, let's wait no more and start reading!
What Color to Wear with Coral Pants?
Coral is often considered as a neutral color. A neutral color is often mentioned as a shade that lacks color. But that is not the case for the color coral. This color goes with almost every color making the other color stand out.
Neutral colors like white, gray, black are great options to wear with coral. Moreover, blue denim, teal, brighter shades of pink also can be worn with it. The color plum and navy also compliments this color.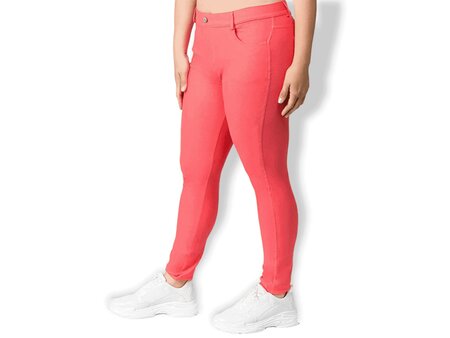 You may also like:
What color Jeans to wear with Dark Green Shirt?
How to Style Coral Jeans?
Coral Jeans are the talk of the town. It's quite a trend now to wear coral jeans. However, it becomes really tough to choose the other outfits to style with it. So, here are a few ideas-
Option 1: Denim Jacket
So, you must be thinking of wearing coral jeans to work or school?
The answer is to keep it super casual. Wear your favorite denim jacket with coral jeans. This is a super comfortable and easy look to pull off.
Option 2: A Neutral Sweater
As previously mentioned, black, gray, white all are neutral colors. A sweater of any of these colors will go great with coral jeans. Not only this will show simplicity but also you'll look super cute.
Option 3: Black Top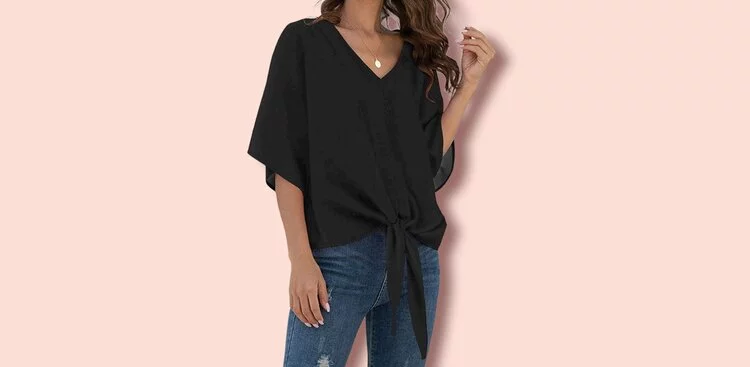 Thinking about: what color top to wear with coral pants?
A black top is the most common attire in a woman's wardrobe. The next way to style coral jeans is to wear them with a simple black top.
The color black really compliments the color coral. Also, J Brand's flattering crop bootcut shape jeans will go great with a black top. So, if you wanna go clubbing with a casual look you should try this.
Option 4: Blazer
You can wear a blazer to pull off a semi-formal look with coral jeans. A gray blazer will make you not only business-ready but also party-ready.
You can wear a shirt underneath or a t-shirt according to your purpose. But make sure to wear a dark-shaded color than the blazer.
You can also try to recreate a look of Cameron Diaz. This can be done by wearing a white t-shirt underneath a nude blazer. As wearing white can never go wrong.
Option 5: A Stripped T-shirt
If you want a look to roam around the neighborhood, this is the way. You can go super casual with this look.
Pair your coral jeans with a black and white striped t-shirt. If you want this to stand out, wear some multi-color jewelry with it.
Option 6: Unicolor Shirt
You might ask yourself now: what color shirt to wear with coral pants?
Unicolor shirts look really cool when paired with coral jeans. You can go for neutral colors as well as contrasting colors. Unicolor sky blue shirt can give you a fresh look for a day-out. The colors like white, olive, beige, navy all go perfectly with this.
Moreover, you have so many ways to style the shirts. You can either tuck them in or untuck them. You can tie a knot in front for more beach vibes.
You can also pull off a formal look while trying this. This is the most versatile styling option with coral jeans.
Option 7: Animal Print Tops
Have you ever imagined yourself at a wild party? At least for once, you've pictured yourself with an animal print top for sure. This is a go-to attire for any party.
What if we tell you, you can pair it with coral jeans. Surprisingly yet naturally coral jeans compliments an animal print top.
But what color shoes to wear with coral pants?
We suggest matching it and wearing a pair of animal print heels. This will make you look fabulous and sexy.
You can top the look off with some coral jewelry as well.
Option 8: Denim Shirt
Denim shirts are like potatoes. As potatoes go with every dish, you can wear a denim shirt with anything. But beware of color contrast.
Well, it's the same case here. You can style a blue denim shirt with the coral jeans you have. It gives a really welcoming look to your whole personality.
Option 9: Turtlenecks
Turtlenecks are one of the essentials of winter. You can really look classy by wearing a turtleneck with coral jeans.
The neutral colors should be the way to go with turtlenecks. You can add some chains to stand out in the crowd as well.
While on it you can also try a pair of Chelsea boots with them. But it's better to match the color of the boots with the turtleneck.
Option 10: Sheer Tops
If it's burning hot outside, wear your coral jeans with a sheer top. The sheer top is the go-to attire in summer.
You should style your sheer top with a tank top underneath. If your sheer top is black then wear a black tank top. Otherwise, a white tank top will be the best for your colored sheer top.
You may also like:
How to Wear Skinny Jeans with Wedges?
How to Wear Coral Jeans in Different Seasons?
Now, let's take the styling one step ahead. While buying anything you should think about the different seasons.
We often associate colors with different seasons. Unlike black, coral can be worn in any given season. Whether it's winter, summer or spring, an attire of coral color is ever-present. This is because the variety of garments can be made of coral color.
Let's take a look at the diversified clothing range-
Coral in Spring
In spring coral color looks most peaceful. As this color represents life, no other season is better to wear coral. In spring, floral dresses are a must. You can wear a printed coral dress with a pair of slippers for a picnic.
But, how to style coral skinny jeans for spring?
Spacious T-shirts will look nice with narrowed or cropped coral jeans. In early spring there's a bit of a chilly breeze that goes by. Sleeveless jackets or collarless jackets with coral jeans can be the perfect outfit. Cardigans will also make you look pretty with coral skinny jeans.
Coral in Winter
Coral sweaters are great for winter. This color will give you a warm outlook in such brazen weather. Style your neutral sweaters with coral jeans as well. When it's a bit less chilly outside this look can be spot on.
Turtlenecks are one of the coolest outfits to wear in winter. You can always pair a turtleneck with coral jeans. You can try to match your jeans with a coral blazer as well. This look is gonna turn some heads for sure.
For a semi-formal look, you can replace the turtleneck with a white shirt. It will give you a corporate look without compromising style.
Coral in Summer
You might be looking for something to wear at a summer party. A lace top with coral jeans can be the perfect option. You can pick any color lace top. But we prefer white, black, and denim blue. These will make you look fabulous.
If you want a less formal outlook, go with a sheer top and coral jeans. Styling sheer tops with your coral jeans can be your go-to option in summer. The animal print tops with coral jeans will make you party-ready at any time.
However, you might pick a coral dress instead of coral jeans. In that case, you might be wondering what shoes go with coral dress?
You can wear it with heels or keds for casual outings. For beach cover-up, you can pair it with some slippers as well.
What Should You Not Wear with Coral Jeans?
Though coral is a versatile color, you can not wear literally everything with it. There are some restrictions to be carefully abided by.
If you don't do that, style police can pick you up. But no worries! It is a figure of speech, they are not real police. It's just that some attires and colors don't really go with coral jeans.
Avoid Coral and Bright Colors
The first one is the coral color. Yes, never pair coral color tops or shirts with coral jeans.
Also, don't wear bright color tops or t-shirts with coral jeans. The colors to be exact are green, orange, neon, red, turquoise etc.
Stay Away from Silk Shirts and Midi Dresses
So, what about the dresses? Which type of top and dresses to avoid?
Well, never wear silk shirts or midi dresses with coral jeans. Long t-shirts should also be avoided with coral jeans.
Also, if you need an official formal look, try to avoid wearing coral color. As it is often considered a casual color.
Product Recommendations
We have mentioned a lot of outfits to style with coral jeans. There are denim jackets, coral dresses, tee shirts and many others. Let's take a look at these products-
Women's Coral Jeggings Jean
These jeggings quality coral jeans are a must for your comfort styling. They are also available in other colors. These pants are super comfy and stylish. It has 5 pockets for your accessories and phones.
It compliments your body shape as it has a never-quit shape retention feature. The best part is it does not have any label or tags inside. Thus making it more comfortable to wear. It's been tested thoroughly so no need to worry about its durability.
Whether with office shirts or casual tops, you'll nail every look wearing them. That's why it's their best-selling jeans.
Animal Print Long Sleeve Top
This animal print top will surely compliment your coral jeans. The top has other colors too. All the colors are perfect for coral jeans.
The top is 95% polyester with a crew neck. Furthermore, it has really long sleeves. So, you'll definitely look gorgeous wearing it. And you won't feel uncomfortable as well.
Bottom line
So, now you have an idea about what to wear with coral jeans. We hope you found your desired suggestions from our article!
Hopefully, you'll be able to don your coral jeans with all the suggestions provided.
Best of luck and happy styling!