What kind of Jeans does Rip Wheeler wear on Yellowstone
Thanks to Yellowstone, we can see the ranch life very closely and with colors. It has a lot of amazing characters. Among them, Rip Wheeler or Cole Hauser(That's his real name) has always been a fan favorite. That's why trying to dress like him isn't uncommon at all. The series stars Cole Hauser(Rip Wheeler), Kevin Costner(John Dutton), Luke Grimes(Kayce Dutton), Kelly Reilly(Beth Dutton), Wes Bentley, Kelsey Asbille(Monica Long Dutton), Dave Annable, and Gil Birmingham.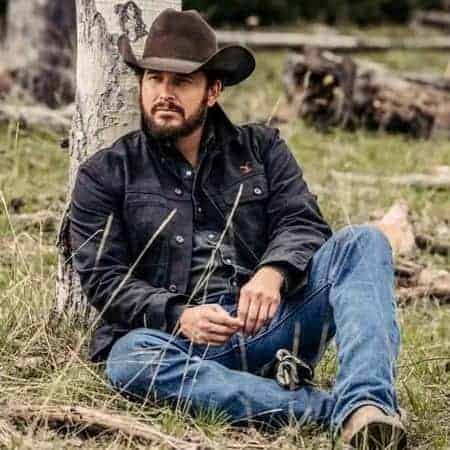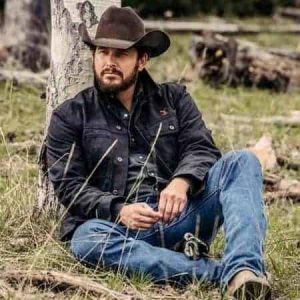 So, what kind of jeans does Rip wear on Yellowstone?
Rip Wheeler mostly wears blue denim jeans to match his black jacket and shirt. Levi's 501 and 505 jeans are a great option to consider. They are both available for $59.50 in the market. Wrangler's jeans are a great option to consider if you're looking for alternatives. Wrangler jeans are mostly one-toned. They're available around the $49.00 price range.
That was only the summarized answer to our whole discussion. But there are actually more to show you regarding the issue.
Don't stop reading if you're willing to know about Rip Wheeler and his attire in detail.
Short list of Rip wheeler Jeans
What Jeans Does Rip Wheeler Wear?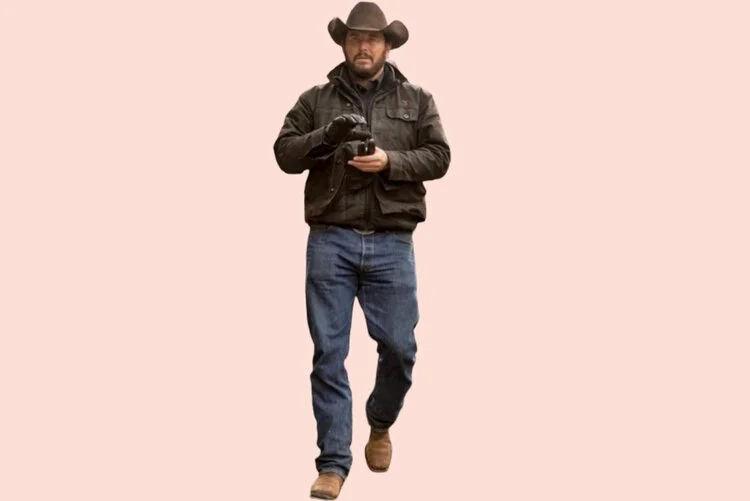 Cole Hauser as Rip Wheeler is one of the best characters that Yellowstone offers. His brilliance and loyalty to John Dutton have made him special in our eyes.
If we have to describe his appearance in one word, it'll be "ballsy". He mostly wears black tops and a black hat. It's pretty elegant and not too flashy.
The dark attire also represents his troubled past really beautifully.
To pull off a great Rip Wheeler look, you'll definitely need some cowboy jeans. And not just any pair of jeans. If you've seen Rip Wheeler on TV, you know he mostly wears blue denim jeans.
They aren't too flashy but not unnoticeable either. There are actually a lot of discussions and threads on Reddit and Fandom about this. Most fans point out Wrangler and Levi's. And they're not wrong.
Throughout the series, Rip is seen wearing a lot of Wrangler jeans. Well, Wrangler has always been a classic, we can all admit that. But he has also worn some Levi's as well from time to time.
If you're looking for Levi's, it'll be the 501 and 505 jeans. The Levi's 501 is a bit darker and it can complement if you're wearing a black jacket. If your theme is dark-oriented, Levi's 501 is a great choice.
However, Levi's 505 is a lighter approach. It has a nice sky blue touch, making it a bit flashy. It's also more noticeable than the Levi's 501. It can be a nice fit during summer.
Want to know the best part? Both of them come with a choice of colors! So, don't hesitate and look out for those jeans. You can easily pick and match it with your top.
With that said, we want to discuss some Wrangler jeans as well. Wrangler also offers some nice blue denim too. They often can be a cheaper option. Choose any original fit jeans from the heavyweight blue color range. And that'll be everything.
There are also some Buffalo David Bitton jeans to try. But they can be too dark at times.
But it doesn't hurt to try, right? Take a look at their store and you may actually get the perfect fit you're looking for yourself.
How To Style Rip Wheeler Jeans?
So far, we've only talked about the jeans that Rip wears. But the jeans alone won't complete the attire. Therefore, let's start talking about the other important parts of your outfits? Don't worry because we've got your back!
To save your time, we've decided to include jackets, boots, and shirts. With all of them combined, you'll nail the Rip Wheeler look easily.
You may also like:
What kind of Jeans does Justin Bieber wear? Outfits Guide!
Rip Wheeler Jacket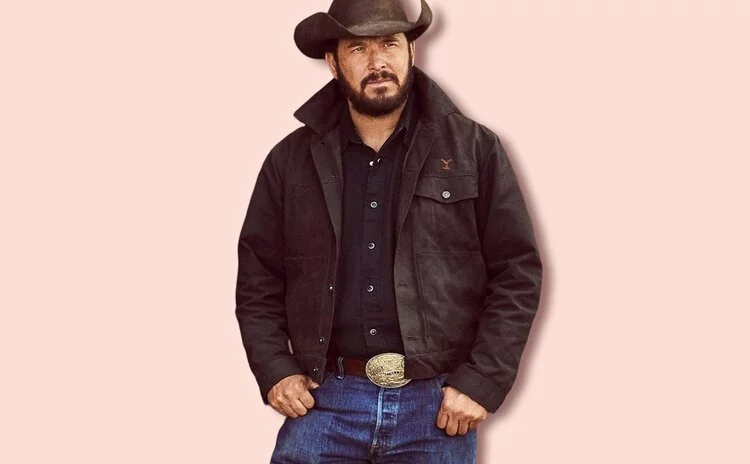 Rip Wheeler's classic black jacket in Yellowstone is certainly eye-catching. That's why many fans often wonder what kind of jacket does Rip Wheeler wear?
Since it can be really hot at times, Rip doesn't wear anything heavy. He wears a light black jacket made of cotton fabric. His jacket also has a viscose lining inside.
With this jacket, he easily achieves that rugged theme. It goes with his character beautifully. So, getting a jacket that gives a rugged feeling should be your priority.
Fortunately, that jacket isn't anything super expensive or special. In fact, you can easily manage that jacket under a $150 budget.
It's a black jacket made with cotton that has a single pocket. The pocket is seen on the pant's left side.
The jacket also has a quilted lining and button closure. Also, make sure to focus on the left pocket. Without it, the looks won't be complete. Make sure the buttons are in white as well.
Luckily, you can get jackets like them easily in any store. They're quite manageable and take little to no time. Simply put, it should be a lightweight cotton jacket with a side pocket. The color must be black.
And that's it; you're now the next Rip Wheeler!
We've linked and talked about one of those jackets that you might like. So, do stay to look out for those. But let's move to other parts of the attire now.
Rip Wheeler Shirt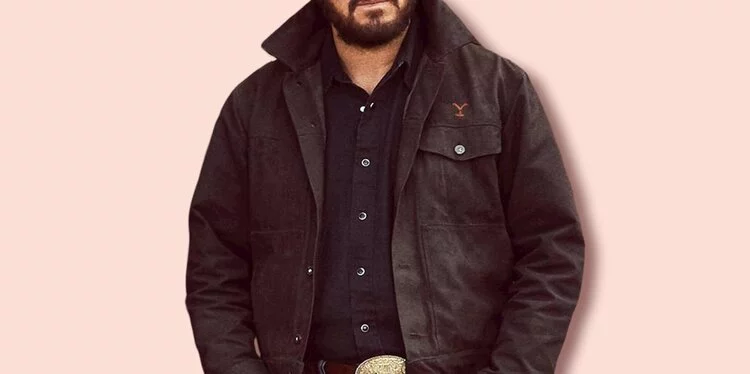 After the jacket, it's time to talk about the shirt that he wears underneath. Rip Wheeler is an all-black kind of person. So, naturally, the shirt that he wears is also black.
For the shirt, you can just get any black shirt you want. But you might want to have the actual look with no flaws. In that case, you've to get black denim shirts. The buttons have to be white; that's the first priority.
Then make sure there are two side pockets and a nice collar. With all of these combined, your shirt will be perfect.
Rip Wheeler Hat
One of the iconic attributes of Rip Wheeler is his classic brown hat. That has left fans wondering- what kind of hat does Rip wear on Yellowstone?
Rip Wheeler wears a classic western-style cowboy hat. It's brown and the color often matches the boots. The hat can also be called a cattleman style.
It's slightly bent on both sides giving that classic cowboy finish.
So, your hat must be brown. Make sure that it's slightly bent. If these two requirements are met, you can try on whatever hat you like.
Rip Wheeler Boots
The question- what boots do Rip wear in Yellowstone is wondered by many. It's because if you want to dress like Rip Wheeler, boots are a must.
Without good boots, your friends won't see you as a real cowboy.
Besides those nice jackets, Yellowstone showcased some boots too. And we all know how gorgeous those boots really are!
Naturally, it's super common to look for boots that match the Yellowstone outfits. But honestly, it can actually be a bit hard. It's because not all boots can nicely match with the outfits. Especially, if it's an all-black Rip Wheeler outfit!
To nail a Rip Wheeler outfit, you'll need some toe boots. Square toe boots have always been a number one choice for ranchers, anyway. Brown square toe boots are what you're looking for.
These boots will scream cowboy when you wear them. With a black top and blue jeans, brown boots just synchronize themselves.
7 Products worn by Rip Wheeler
Deciding what jeans to get isn't an easy task. On top of that, looking around the internet can be a bit time-consuming. We totally understand that.
That's why we've decided to bring some good jeans that you might like. Here, we're going to show you some of the best jeans that you can get. All of them can easily pull off the look of Rip Wheeler.
So, sit back, relax and go through the entire catalog we've prepared just for you!
1. Levi's 505 Regular Fit Stretch Men's Jeans
If you're looking for something light, then Levi's 505 regular fits are great. These jeans have around 35 different colors. So, there are a lot of options to choose from.
On top of that, being 100% cotton and zipper closure makes it irresistible to buy.
Even light blue has a lot of different shades which is great news. Light blue jeans go exceptionally well with brown boots. They also look magnificent in broad daylight.
These jeans also cost $59.50. These are regular fit instead of original fit. So, it'll be a bit more stretchy than the original fit jeans.
2. Levi's 501® Original Fit Men's Jeans
If you're looking for something dark, then you'll have to choose these jeans instead. Luckily, Levi's 501 original fit jeans also cost $59.50 like the Levi's 505.
The only difference is these jeans are original fits and not regular ones. So, these will be a little tighter than the 505.
Some of the darker colors may cost you a little extra. Those jeans are priced at $69.50 which is a little costly.
But they're definitely worth it if you like the color. You can also wait for Christmas or Halloween if the price seems a little too much.
On festive seasons, these pants can be bought for as low as $39.50! Like Levi's 505, the 501 also offers a bunch of colors to choose from.
3. Levi's Men's 559 Relaxed Straight Jean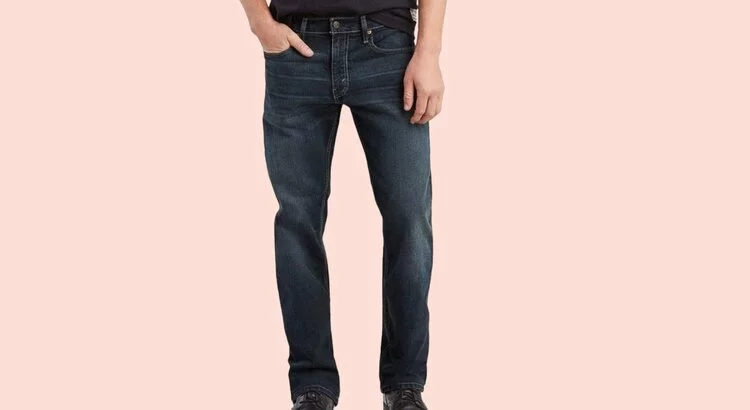 Want something even darker and relax-ish? Then Levi's premium 559 relaxed jeans are the best choice for you!
But there's a little difference between these jeans with the ones we've mentioned so far. It's their fabric quality.
These jeans are made of 98% cotton and 2% elastane. These jeans also come in different sizes which makes them super versatile.
When it comes to prices, they are also available at $59.50. On Christmas and other sales, the prices get reduced to $39.99
But ultimately, these jeans are the best if you want the whole theme to be dark. There are 4 different shades of blue; lighter, light, dark, and darker. In total, there are about 20 colors to choose from.
4. Wrangler's Men's George Strait Cowboy Cut Original Fit Jean
We can't discuss cowboy jeans without mentioning the wrangler. They are an all-time classic and provide a sleek look.
Wrangler's men's George strait jeans can cost around $49.00 to $82.00. But be notified that Wrangler jeans offer fewer color options. They're also comparatively way cheaper.
These jeans are available in stonewash and heavyweight stone denim. These are 100% cotton which makes them super comfortable. And they are for machine wash only.
One thing you'll notice when buying a Wrangler is its color pattern. Their jeans often have no stripes or anything of that sort.
As a result, their jeans seem super classy to a lot of people.
5. Wrangler Men's Western Long Sleeve Snap Firm Finish Work Shirt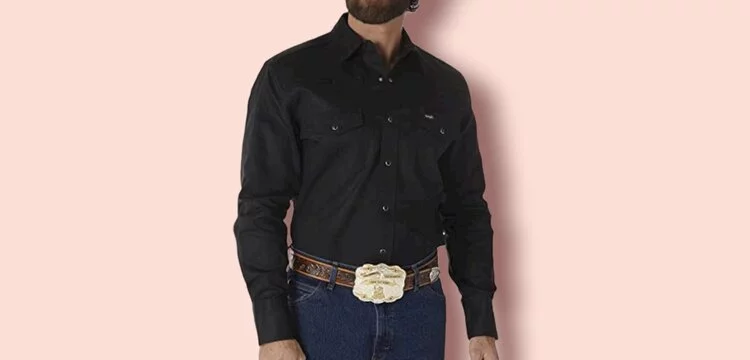 Without black denim, your Rip Wheeler outfit isn't complete. If you've been struggling to find a perfect shirt, this may be your choice.
Wrangler men's western long-sleeve shirts can be the perfect vest to wear. It can go with practically any jacket. These shirts cost around $40.00 if you get a large size.
6. Queue Essentials Western Style Pinch Front Straw Cowboy Hat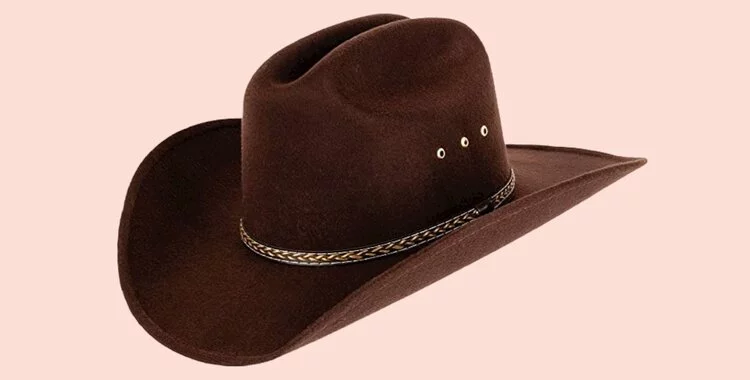 Queue Essentials western style cowboy hat is a perfect fit with a black attire. Since your boots are going to be brown, these are something to consider.
These hats are elastic and canvas. It follows the classic cattleman style, something a lot of cowboys adore.
They're also durable and last for a long time. These hats are priced at $40.99 which makes them affordable.
7. ARIAT Men's Western Boot
ARIAT men's western boots are considered one of the best selling boots of all time. So, you don't have to worry about their durability. The overwhelming reviews say it all.
These boots are made of 100% leather which is a big plus. Other than that, their shoes are made of Duratread soles which offer extreme protection. On top of that, they're famed for staying true to size.
This makes them perfect for online purchases.
Final Words
That was everything on what kind of jeans does rip wear on Yellowstone. We hope you liked our suggestions and found something to wear!
Just choose any blue denim jeans that offer decent quality. Light-colored jeans tend to stand out and attract attention. On the contrary, dark-colored jeans can elevate the theme to a higher level. Either way, there's no loss at all.
Finally, have a nice day and happy shopping!